The kitchen is the heart of the home. It's where birthday cakes are decorated, dinners are prepared, Christmas lunch is served and where all the best family secrets are spilled! But what if your kitchen isn't practical? When it comes to designing your dream kitchen, its important to ensure your kitchen is both beautiful and functional. From the placement of your bin, to the overhang of your breakfast bar we share practical kitchen design tips to keep in mind when designing your kitchen.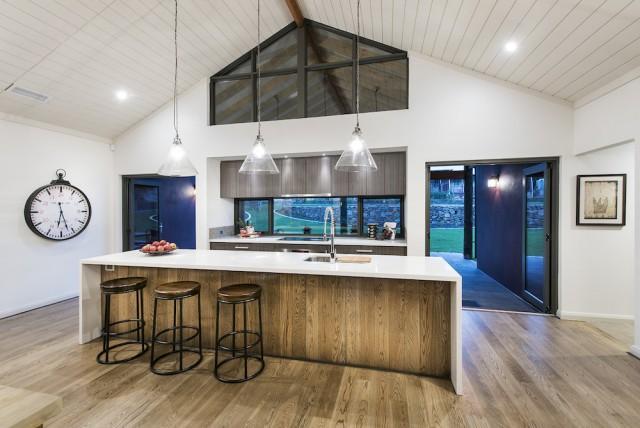 Breakfast bar overhang
Kitchen island with bar stools are a must have in modern kitchens. Breakfast bars are the perfect way to separate the living area from the kitchen while maintaining an open plan living area. The beauty of this layout is that parents can cook dinner and keep an eye on their kids and friends can sit and enjoy a glass of wine while their hosts cook.
If you include a breakfast bar in your kitchen, be sure to include an overhang on your island. This will provide legroom for those sitting on the bar stools. Anywhere between 30 – 48 cm's on the island will ensure comfort.
Space between bench tops
When designing your kitchen, it is recommended to leave a minimum of 1 metre of floor space between your bench tops. This will allow adequate from for you to open drawers and cupboards as well as stand in front of your dishwasher when open.
Lighting
Accidents can regularly occur in the kitchen from hot plates, sharp knives and gas stoves just to mention a few. For this reason good lighting is essential. Consider a combination of ceiling lights, pendant lights and under cabinet lighting. Down lights provide good general lighting to the room, illuminating the entire space. On the other hand pendant lights provide more focused lighting. Under cabinet lights are great to ensure dark corners stay illuminated.
Remember, when installing pendant lights; ensure you position them so the light falls in front of the food preparation area, rather than behind as this will cast a shadow over your workspace.
Dishwasher and sink placement
Placing the dishware within arms reach of the sink is a great way to avoid dripping food and grease on the floor. That way, when you rinse excess food off plates you can place them straight into the dishwasher.
I'm sure you don't want to be mopping your kitchen floor more than you need to!
Bin location
The kitchen bin often not only used for food scraps, it is often also used for everyday household rubbish that is collected around the home. For this reason, it is useful to place the bin at a point in the kitchen that is easily accessible from the rest of the house. Possibly at the end of the bench or closest to the kitchen entrance.
Dishwasher location
If your kitchen layout permits, we recommend to not install your dishwasher next to a wall. This will greatly limit your access to the dishwasher and make it very difficult to pack and unpack, as you will only be able to access it from one side.
Powerpoints
Today we have several appliances that require powerpoint's for example kettle, toaster, coffee machine, food processors just to mention a few. To this end, you will need to ensure you install an adequate number of points in the correct location where you wish for your appliance to sit. This will ensure ease of use and also prevent injuries that may result from the use of exposed cables or extension cords.