There are some things that just naturally go hand in hand. Like bacon and eggs, footy and meat pies, campfires and marshmallows.
It's a bit like our favourite rural retreats.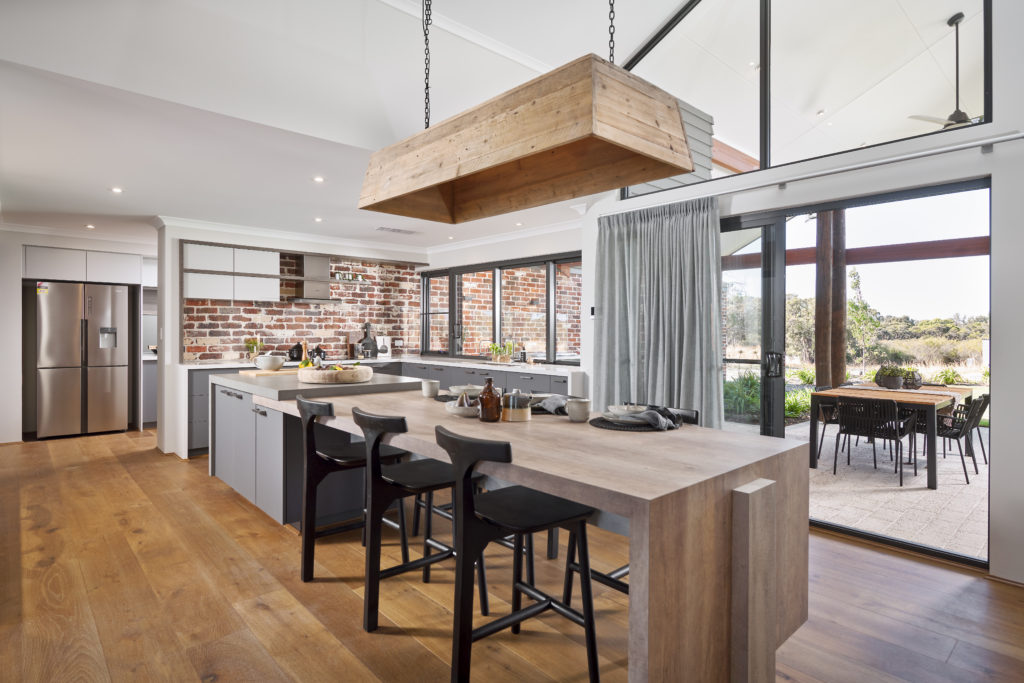 Recycled brick and a roaring fire, sunsets and drinks on the deck, Sunday lunch with the family. Luxurious linen on a king-sized bed. A comfy sofa and a favourite book.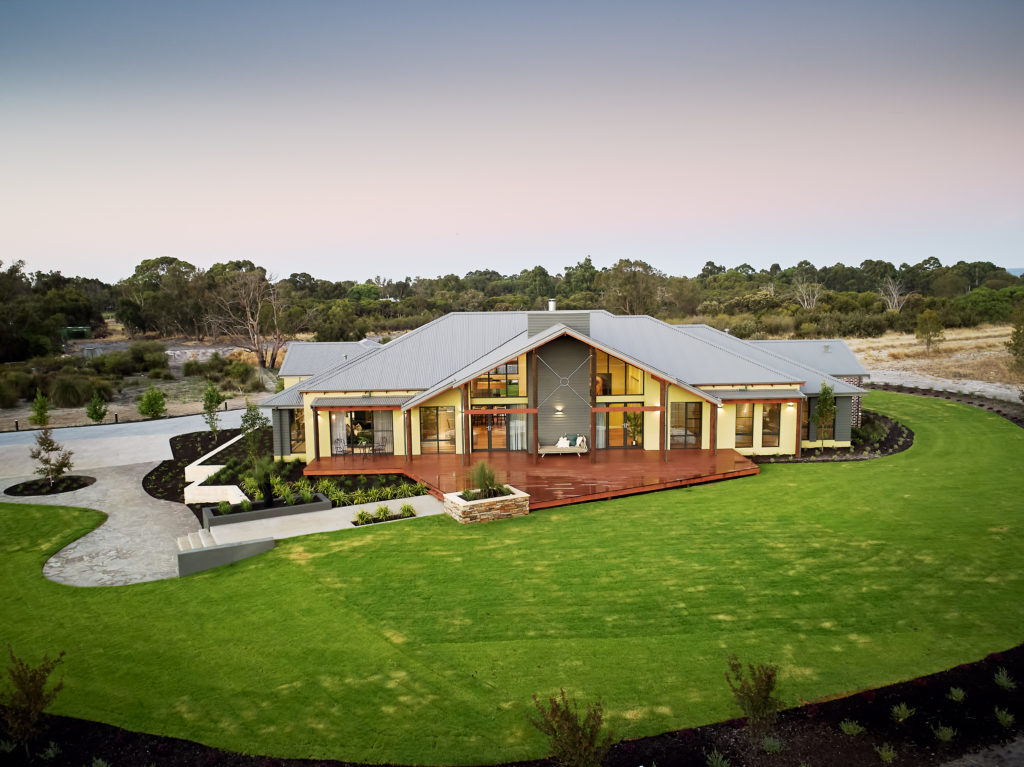 You'll find we've catered for all these classic pairings in the design of the Hinterland Retreat, a five-bedroom, three-bathroom stunner on display in Banjup. Delivering everything you want in a rural hideaway, it has those all-important spaces to relax, work, and spend time with family and friends.
It even has an integrated apartment should you need it. The fifth bedroom adjoins an activity room with its own kitchenette, essentially giving you two homes in one. Perfect for long-term guests or older offspring.
The kids have their own space on one side of the home and the parents have their own wing on the other side, complete with master bedroom, dressing room and ensuite with freestanding bath.
Big, bold and adaptable, this contemporary country home illustrates 10 of our favourite design features for rural retreats: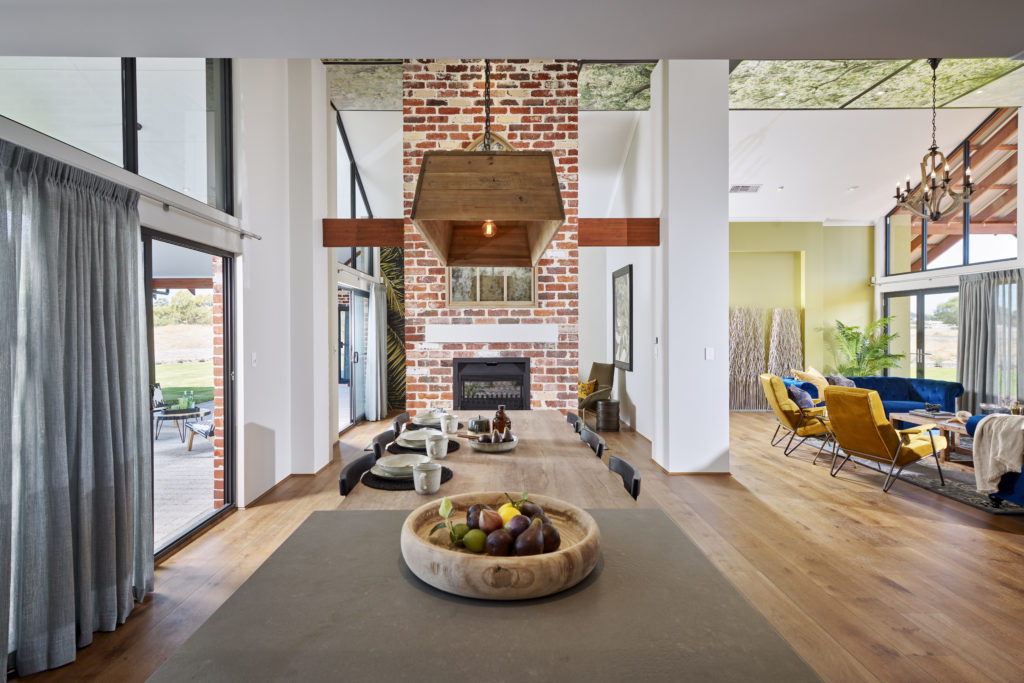 Panoramic windows: Chances are an enviable view comes with your dream rural retreat. So why not enjoy it at every opportunity with huge expanses of glass bringing in natural light as well as that glorious outlook. With double-height windows either end of the central kitchen and living space means there's twice as much of the outdoors to enjoy.
Volume: High raking ceilings teamed with extra-high raking windows are a great way to bring a sense of drama to a space. They're becoming a rural retreat staple, especially when carried out to the alfresco.
Alfresco spaces for all seasons: Capture the best of outdoor living no matter what time of year it is. With both a giant summer alfresco and a generous winter alfresco, you can match your outdoor lifestyle to the seasons. Bi-folding windows open up the kitchen to the barbecue verandah.
Recycled brick: Natural, rustic and full of character, recycled brick is not only on-trend but it's also a perfect choice for big beautiful homes in a rural setting. Use it inside and out to pick out features or define a space.
Dual-sided fireplace: What's better than a roaring fire in winter? Two roaring fires! A dual-sided fireplace is a great choice for big, open-plan living areas, helping provide a sense of separation while doubling the cosy factor.
Rustic bush poles: One of the hallmarks of a classic rural retreat. Strength, substance and support courtesy of Mother Nature.
Huge island bench: A central gathering point, a 4m island bench makes a modern statement by becoming the dining table. It's a modern twist on the classic country kitchen.
Scullery: When you're entertaining, it's great to have somewhere to hide the mess and clutter that inevitably comes with whipping up a feast for your family and friends. A scullery is also great for stashing those bulky must-have kitchen appliances and stocks of home-made goodies.
Home office: No need to leave your rural retreat to go to work when you have your own comfortable home office, complete with its own client access. Open the bi-folding panels and you're instantly connected to the internet zone and the rest of the family.
360-degree appeal: A design such as the Hinterland Retreat is especially happy when it's got space to show off all its best features, whether it's looking out across a rolling green valley, perched up high on the dunes or nestled amongst bushland.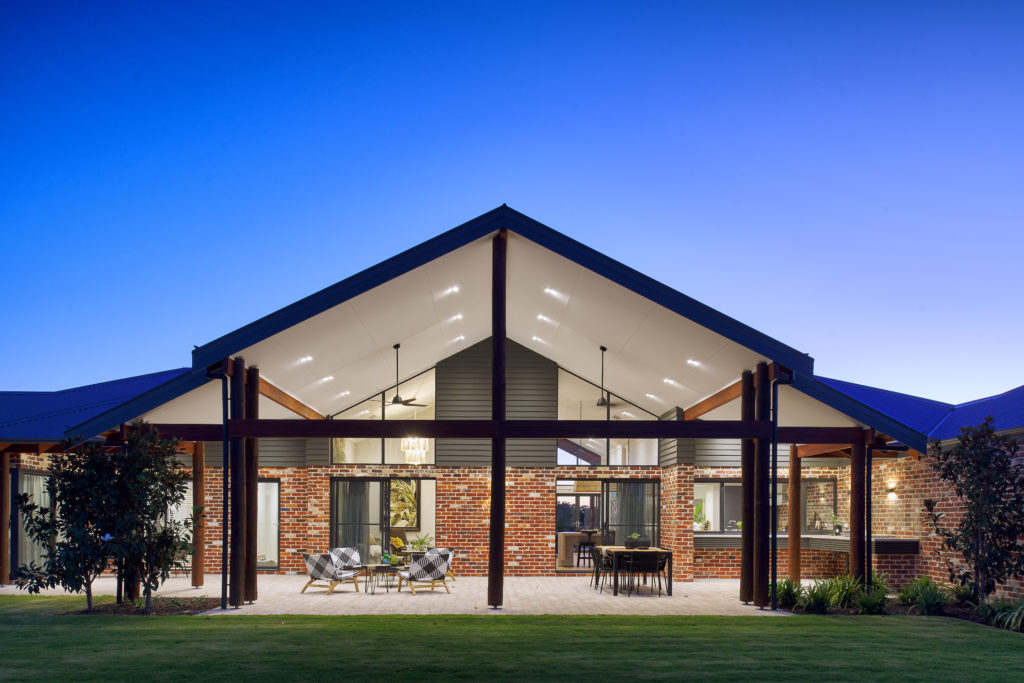 Love it, but need to make a few changes? The Hinterland Retreat can easily be customised for that perfect fit.