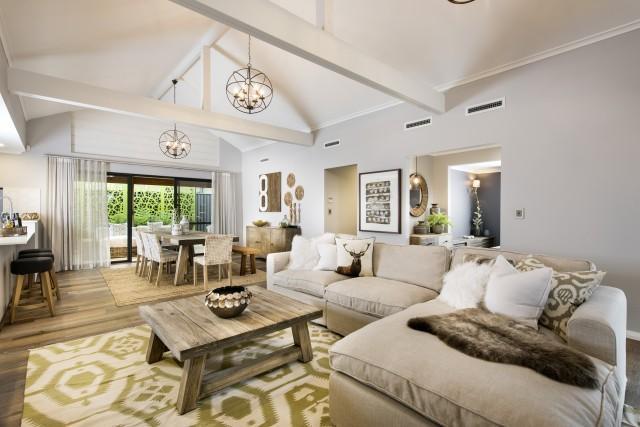 2015 is shaping up to be a colourful year for interiors with pastels, metallics, matte finishes, bold floral prints, feature lights and concrete all taking centre stage. Here are the top trends you should know about.
1. Pastels
This year we will be seeing a diverse range of colours, in particular gentle colours such as muted pastels, smoky shades of grey, neutral tones as well as colours at the opposite end of the spectrum – strong, bright colours. In terms of paint colours, basic sophisticated and clean colours such as whites, soft shades of grey and muted pastels are preference.
2. Metallics
In 2015, you will no longer be restricted to silver or a stainless steel fixtures. Be prepared to welcome brass as the 'new' metal. The warm shimmer of brass makes it especially popular so don't be afraid to introduce a few key pieces into your room whether it be lighting, tap wear, statement furniture pieces or accessories. Also, don't be afraid to mix and max finishes. You may consider adding a combination of brass and silver feature lights in your living room as a statement piece.
3. Industrial Design
The industrial trend began a few years ago remains popular in 2015 especially in the form of furniture, flooring and lighting. With simple shapes and raw materials such as raw timber, galvanised steel, glass and concrete, the industrial look is simple, timeless and natural.
No longer considered cold and hard, concrete is enjoying its time to shine as the new 'raw' material for 2015. Along with polished concrete floors, concrete is now being used to create feature walls, bench tops, tables and sinks. New for 2015 is the use of concrete for accessories such as lighting, ornaments and planters.
4. Matte Finishes
The popularity of matte finishes is growing in modern décor as we aim to add new materials and textures to interiors. Matte finishes create a raw, edgy look and allows you to appreciate the material that the item is made of. This trend is growing through all elements of the home including tap ware, lighting, furniture, accessories, kitchens and bathrooms.
5. Statement Lighting

To make a design statement in a home, its not all about the furniture or accessories, it is also about making the best use of feature lights. In 2015 we will see a particular focus on sculptural ceiling lights. When located over a staircase or a kitchen bench, ceiling lights can instantly add individuality to your home. The benefit of sculptural ceiling lights is that they look beautiful when they are both on and off. Ceiling lights are available in a range of forms so you will always fine something to suit your taste!
6. Bold Floral Prints

Oversized floral, straight from the catwalk are moving in as the new must have print for homes in 2015 adding a welcome touch of femininity. From pale, pastel shades, floral for the New Year can be seen in many forms. For colour lovers, you'll even see them in bright shades, paired with bold, block colours.