Have you just completed building your dream country haven? Maybe you've got farmhouse fever? When done well, a country interior style can bring warmth to monochromatic spaces, add timeless profiles to contemporary designs and allow you to create eclectic spaces that reflect your personality. The beauty of country interiors is that they age gracefully and take a relaxed and practical approach to decoration.
We have put together some tips to help you achieve this rustic look in your own home. By adding a few key elements you can easily and cost-effectively transform your home into a rural retreat.
Contemporary colour
Country interiors are built on neutral colour palettes are a kept interesting through the use of texture. Forget bold colours and look to a neutral backdrop with a colour scheme of whites and creams. Soft shades like washed sage, grey or beige while hints of deep orange, deep red or butter yellow can also make a subtle space pop. You can add interest to a room with contrasting accessories.
Playing with angles

A variety of geometric shapes and architectural details create rooms that please on every level. Vaulted ceilings outfitted with reclaimed wood beams heighten interest, while also making way for tall modern windows. Round mirrors and a circular chandelier soften the room's harder wood surfaces, including a timber mantel that ties to the ceiling beams and echoes the window details.
Keep patterns to a minimum
While stripes, checks and florals are used to make a statement, it's best to keep incorporate these patterns in small items such as cushions, throws and decorative items. Avoid purchasing large-scale items such as a sofa in bold patterns as it will be a large statement for years to come. Rather opt for a neutral sofa to stand the test of time. You can dress your sofa up with patterned cushions that you can easily change as you wish.
Mix timbers

Inherited timber pieces with a history are a key part of furnishing a country home. They can also be a mix of old and new, not just matching sets. So if you didn't inherit Grandma's sideboard, check out your local Salvos, auctions or Gumtree to pick up a few special pieces that can work in your home.
Timber flooring throughout the home is a fabulous way to work the country look along with some scatter rugs to add texture to the room.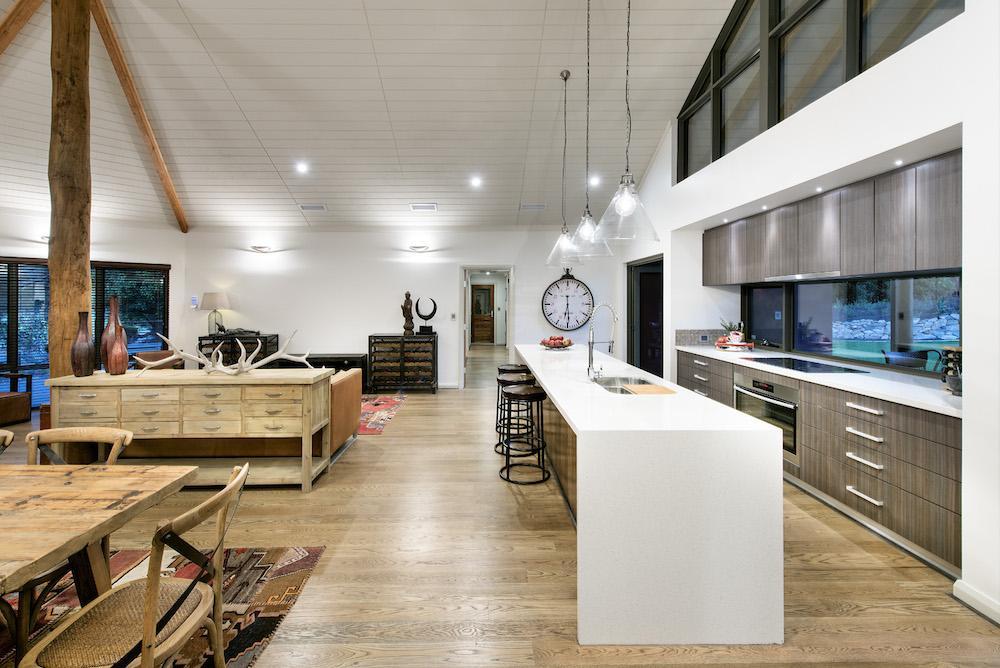 Décor and accessories
A few well-place country inspired pieces will help set the mood in your home. Consider using an old shoehorn as a doorstop or maybe a vintage enamel water jug would make a great vase and add some interest.
Handmade items are also a big part of country style, so get out that cross-stitch rug and look for hand-knitted and stitched cushions and throws. Adding a throw is a great way to transform a tired lounge and add some new rustic-look cushions to transform your living areas.