Colour
Warm and earth colours will replace the more minimal palette that we have been seeing in previous seasons. This will include tones of sienna, tan, terracotta as well as rust and russet on walls, furniture and home décor.
Kitchens
Marble continues to be the preferred material for kitchens, however we are expecting to see more green and brown marble used in 2018. 40 or 60mm thick stone benchtops will be replaced with thin marble benchtops using a shark-nose profile to appear to float over kitchen cabinets.
Another popular look will be the all-black kitchen, which offers a contemporary and sophisticated look, especially when mixed in with plants.
Is black the new white? Black compliments well with metal, painted wood and stone.
The trend of concealing storage and tableware will be switched to plenty of freestanding cabinets with glass doors and open shelf racks for showing off crockery.
That being said, electronic appliances such as fridges, dishwashers and stovetops are remaining hidden elements in kitchens.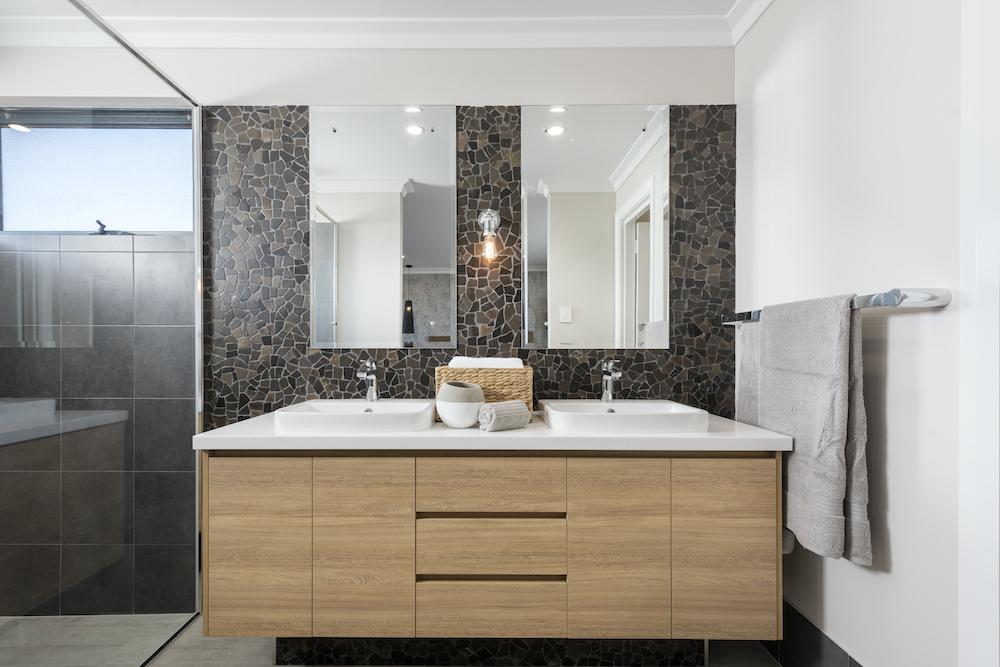 Bathrooms
The move towards colour is continuing in the bathroom next year, not only through tiles, but also basins and toilets.
We expect popular colours to be soft plum, dusty blue, dark green, beige, brown and charcoal.
These colours could work well with a basin that blends into a dark and moody bathroom, saying goodbye to the contrast of the usual white.
Living rooms
Wallpaper in the living spaces is back and here to stay! The key trends expected are either geometric or organic. Geometric designs take cues from the Memphis style with dashes and stripes.
Organic styles will be seen with soft and watercolour markings, or paint splotches. Floral designs are a definite no for next year.

Homewares and styling
Furniture designs will see a move towards comfort in couches, with many low, puffy, curved and plump shapes.
Many furniture designers will take to luxurious looks with an edge.
On the topic of styling, it is 'more is more' at the moment. Popular styles and materials displayed on homewares include terrazzo, velvet, ottomans and side tables, lamps, brass objects, handmade glazed ceramics, mouth-blown coloured vases, wooden vases.
Indoor plants have been in our homes for a while now, and there was no indication of this changing anytime soon.
Textile wall hangings are still a strong trend, especially with a modern take.
If you struggle with keeping your plants alive, then a single tree branch in a vase or a few large tree branches in a basket add a dose of life and greenery to the space.
In terms of decorative art, textile wall hangings are still a strong trend, especially with a modern take.
Conclusion
What's in: Warm colours, natural stone, cacti, curved shaped furniture, wicker, cordless lamps, black kitchens, portable lighting.
What's out: Florals, damask, polished glossy stone, white kitchens and bathrooms, copper and rose gold finishes, minimalism, shiny high-gloss finishes.
What's next: Suede, more designers collaborating with mass-produced furniture brands, sian-inspired design, red accents.