Designed to embrace the Western Australian Landscape.
With its extensive side verandah and sweeping views, feature bush poles, exposed rafters and feature weatherboard cladding, the Kalgup Retreat encapsulates the outdoors, offering a rustic appeal.
STM Magazine #Home Edit writer, Maya Anderson recently interviewed Principal Designer Rob Kirkovski about his inspiration for the design of this rural retreat.
Located in Dunsborough, this display is open on Wednesdays from 2-5pm, Saturdays and Sundays from 12-5pm and by private appointment.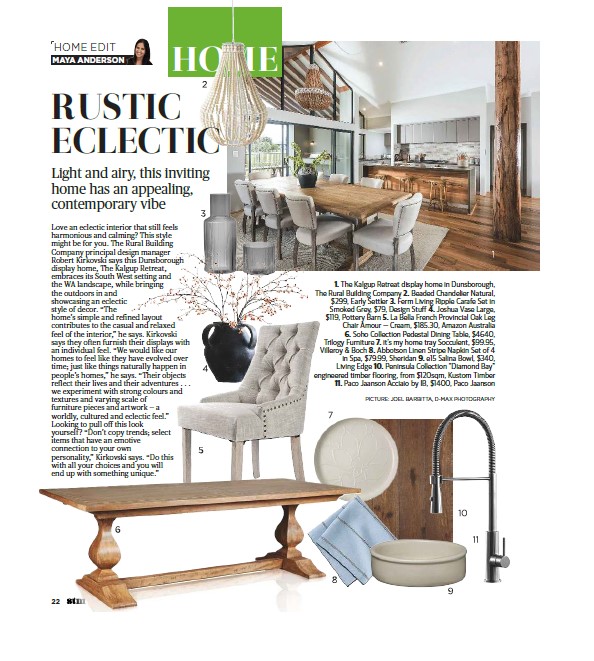 Love an eclectic interior that still feels harmonious and calming?
This style might be for you. The Rural Building Company principal design manager Robert Kirkovski says this Dunsborough display home, The Kalgup Retreat, embraces its South West setting and the WA landscape, while bringing the outdoors in and showcasing an eclectic style of decor.
"The home's simple and refined layout contributes to the casual and relaxed feel of the interior," he says.
Kirkovski says they often furnish their displays with an individual feel. "We would like our homes to feel like they have evolved over time; just like things naturally happen in people's homes," he says.
"Their objects reflect their lives and their adventures . . . we experiment with strong colours and textures and varying scale of furniture pieces and artwork – a worldly, cultured and eclectic feel." Looking to pull off this look yourself?
"Don't copy trends; select items that have an emotive connection to your own personality," Kirkovski says. "Do this with all your choices and you will end up with something unique."
PICTURE: JOEL BARBITTA, D-MAX PHOTOGRAPHY 1. The Kalgup Retreat display home in Dunsborough, The Rural Building Company 2. Beaded Chandelier Natural, $299, Early Settler 3. Ferm Living Ripple Carafe Set in Smoked Grey, $79, Design Stuff 4. Joshua Vase Large, $119, Pottery Barn 5. La Bella French Provincial Oak Leg Chair Amour – Cream, $185.30, Amazon Australia 6. Soho Collection Pedestal Dining Table, $4640, Trilogy Furniture 7. it's my home tray Socculent, $99.95, Villeroy & Boch 8. Abbotson Linen Stripe Napkin Set of 4 in Spa, $79.99, Sheridan 9. e15 Salina Bowl, $340, Living Edge 10. Peninsula Collection "Diamond Bay" engineered timber flooring, from $120sqm, Kustom Timber 11. Paco Jaanson Acciaio by IB, $1400, Paco Jaanson