When your home is a rural hideaway, far away from the hub-bub of the city, there's even more chance friends and family will want to drop by over the holidays.
Maybe stay awhile. Breathe in the fresh country air. Enjoy a morning at the beach, a long walk through the trees. Time to relax. To chat on the back deck. Take in the view, the peace and the calm. To take the opportunity to stop and re-set.
To enjoy all the things you enjoy away from the rat race.
Thankfully rustling up a bite to eat and something deliciously cool for your guests to drink doesn't have to be complicated. After all, less time in the kitchen means more time to enjoy together.
It's easy to dress a summer table, indoors or out, when you take inspiration from the landscape around you. Simply compliment your surroundings by choosing natural elements, whether that's simple sprays of greenery in a large jug, or water glasses that pick up on the blues and greens of the ocean.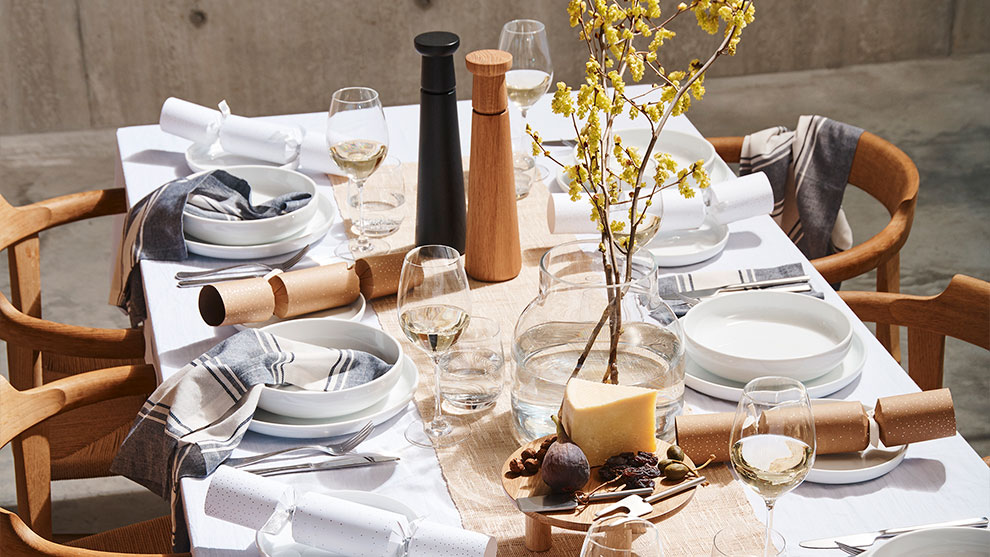 Some of the best summer food is deliciously simple too, especially if you take advantage of the great range of fresh local produce to be found in regional WA.
Think everything from summer berries and gourmet sausages, to artisan breads, cakes and slices. Your local farmers' market is a great place to start for inspiration and ideas to tempt your tastebuds.
Here are 3 easy ideas to make the most of what's on your doorstep these holidays.
#1 The cheeseboard
Possibly the ideal food for a relaxed, leisurely get-together at almost any time of the day.
Think presentation rather than preparation, with cheeses, chutneys, nuts, olives, dried fruit, crackers and cured meats that can all be bought ahead.
A mix of both hard and soft cheeses is ideal, along with crackers – plain work well – in a few different shapes to add variety. All you need to do when it's time to eat is arrange everything on a large serving platter and pile the chutneys into bowls. Fill in any gaps with nuts, dried fruit and olives so the entire presentation is generous and inviting. Add small spoons for the bowls and a cheese knife for each cheese and your five-star feast is ready.
#2 The afternoon tea
Add a sense of occasion to your easy entertaining by setting a table in the cool of the shade and inviting your friends to join you for some traditional country refreshments. Even the simplest of sandwiches can become something special when they're made mini. Ditto quiche, cakes, scones and sweet slices. Have a no-bake policy? Here's the excuse you've been waiting for to raid the shelves of your local bakery or patisserie. Dust of Nana's floral tea set or visit your local charity shop for delicate china tea cups and plates to set off your teatime treats. Pop open a bottle of bubbles and afternoon tea is served.
#3 The barbecue
Summer evenings are perfect for entertaining under a clear, country night sky. Keep the evening meal simple by taking the barbecue back to basics. Some top-quality snags from your local butcher, a tasty homemade relish and the softest of bread rolls can be a real crowd pleaser. Follow up with a bowl of fresh seasonal berries topped with cream, or a generous serve of summer's juicy stone fruit. Voila! You're easily feeding a crowd under the stars in your own backyard.