There is no better time to build a home in Western Australia with historically low interest rates and a range of Federal and State government incentives available, making building a home a lot more affordable. The process can take months, so you will need to act fast to secure your house and land before 31 December 2020!
Whether you're an upgrader needing more space, looking for the perfect family home, or a downsizer looking for less maintenance, there is no better time to build a new home than now.
STEP ONE: FINANCE ELIGIBILITY
Speak to a mortgage broker about your borrowing capacity and eligibility for HomeBuilder, the Building Bonus Grant and First Home Owner Grants. Make sure you are in a good financial position and have a deposit to secure finance. A qualified broker can write you a letter of eligibility that provides the land developer and builder confidence in your financial position, or you may choose to seek pre-approval from a bank. The Letter of Eligibility can be prepared within 24-48 hours however pre-approval can take 2-3 weeks.
STEP TWO: SECURE LAND
Find and secure your land in the location of your choice! Whether it be a rural or suburban lot, we recommend signing your land contract before getting started on the design process.
STEP THREE: CHOOSE YOUR HOME DESIGN
Once you have secured your land, you can browse our range of home designs to choose a design that suits you (to qualify for HomeBuilder, the value of the house and land together must not exceed $750,000). You will sign a Preliminary Plans Agreement (PPA) allowing us to commence working on your home design. The PPA can be done almost instantly- same as a land contract.
STEP FOUR: SIGN THE BUILDING CONTRACT
Once you have signed your PPA, we will commence your working drawings and commence preparing your building contract. Before you sign the building contract your land needs to have a site survey done and an engineer's site report completed. Then working drawings for your new home can be drafted and then lastly you can sign the building contract.
Note: It is important to know that to be eligible for HomeBuilder you must sign the building contract before 31 December 2020. So make sure you have gone through steps 1-4 before 30 October 2020. It can take up to 12 weeks from the PPA being signed (usually 6-10) for you to sign the building contract.
STEP FIVE: FINANCE APPROVAL
Once you have your signed building contract and your prestart variations are finalised, both your building and land contracts are lodged with your bank or broker to arrange unconditional finance approval for your home loan This generally takes 2-6 weeks to be processed.
STEP SIX: SETTLE ON YOUR LAND
Once you have received your unconditional finance approval, you will then prepare to settle on the land. Land settlement will usually occur 4 weeks from final formal date.
STEP SEVEN: SLAB DOWN PREPARATION
Once you have signed your building contract, received unconditional finance approval and settled on the land, we will apply for a Building Permit from the Local Council. They may also need to seek design approval from the land developer (if applicable), or apply for additional approvals from your local council to accommodate your proposed design. Once this is all complete the slab can be poured and construction of your new home can commence.
Note: Construction must start within three months of signing the Building Contract.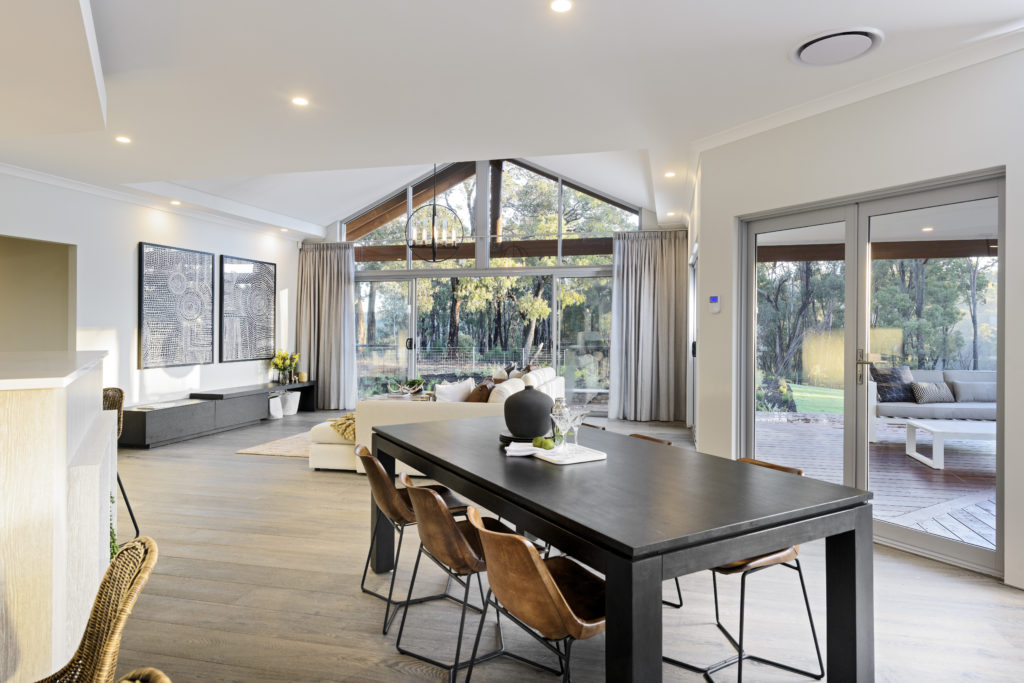 GOVERNMENT GRANTS AVAILABLE
The Federal Government has announced a HomeBuilder package, a $25,000 grant available to eligible owner-occupiers who build a new home from 4 June until 31 December 2020.
In addition to the Federal Government grant, the State Government announced a $20,000 Building Bonus grant or new home builds until the end of the year. This grant will be available on top of the Federal Government's $25,000 HomeBuilder Grant, as well as WA's $10,000 First Home Owner Grant. If you qualify for all of these grants, you could access $55,000 in Government Assistance.
There's never been a better time to begin your new home building journey! Speak to one of our local Building and Design Consultants and find out how you can take advantage of the Federal and State Government grants today.